Thetraveljunkie.org – I went to Jipathapun Ban Khu Bua Museum, Ratchaburi, a local museum of the community created by many organizations within the district.
We had so much fun! Everyone was so happy!
Originally, the place was established in order to pay homage to Thai-Vietnamese ancestors living in Ratchburi province.
It was first started in 1999 and was opened to the public in 2005 by the senior good contribution group.
This museum aims to gain more contribution form the next generation to create new cultural innovation. The museum displays the deeds of the ancestors from past 203 years.
This two-storey building was 24 meters long and 18 meters wide surrounded with shady trees. Next to the museum, there is an ancient remain from Dvaravati period with over 2,400 years old.
It was renovated by Fine Arts Department and registered during 1961-1963.
There are also other ancient remains around the area for those who interest in history to visit.
At the ground floor of the museum, it presents the local wisdom of the Dvaravati Period such as stucco arts and baked clays in various forms including human, Nagas and Buddha.
The left Buddha arts from Fine Arts department and from those who tried to steal it have not been stored at Wat Klong Suwan Kiri, instead, they are kept in one of the museum gallery granted by the monks to praise indigenious knowledge of Dvaravati ancestors.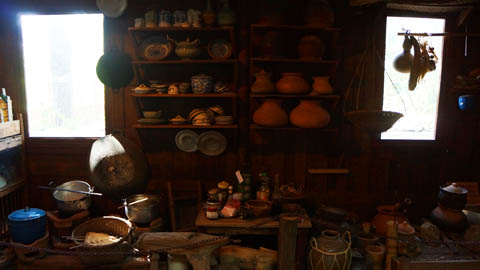 Next room displays local wisdom of Yonok-Chiang Saen people or Lanna who immigrated from Chiang Saen to Chiang Saen around 200 years ago.
The exhibition includes tools and utensils and community developing activities from last generation presented by wax models.
The uniqueness of this museum is its story-telling technique through the wax models or dummies in various activities including daily routines and community development where the community leaders are sitting around a table and exchanging their opinions.
Not so far there a few respected Thai-Vietnamese monks displayed. Also, harvesting culture is exhibited including rice threshing, rice pounding, rice making process.
Overall, it was a lovely experience walking around a museum by yourself. The museum was fantastic and definitely worth a look.
Discover Thainess!
xxx
Happy Sustainable Travels!
Follow us on Instagram @TravelJunkieID, Twitter @TravelJunkieID & like us on Facebook.