Thetraveljunkie.org – A few weeks ago we went to Langkawi Islands for the first time, an archipelago of 104 islands in the Andaman Sea, northwestern Malaysia which is adjacent to the Thai border. And it was an incredible experience. During our trip we stayed at Resort World Langkawi. We took these photos one sunset cruise. Enjoy the warm sea breeze and soothing sounds of the waves lapping against the boat.
The warm glow of the sunset will lull you into a mellow mood. As you admire the Geo Park that makes up Langkawi Island and stunning sunset, have a drink from the open bar. Choose from the wide selection of beer, wine, liquor, cocktails and fruit juices among others.
Sip on a pina colada, swing your legs over the ship's bowsprit and feel on top of the world. A must try during this cruise is the Salt Water Jacuzzi. Hop into the wide net that is suspended into the ocean. The sailing cruise will cause the waves to lap gently against your back as you lay back, creating the sensation of being in a Jacuzzi. Glide across the middle of the ocean enjoying a beer, watching the sky turn to dusk.
After a glorious splash in the sea, enjoy the gourmet barbeque feast prepared freshly before your eyes. The hearty meal gives just the right finishing touch to an eventful day. The variety is impressive and tasty, with seafood, pasta, salads, satays, chicken and many more in Asian and western styles.
As you sail back to shore, enjoy the beautiful night scenery of Resorts World Langkawi. Yellow lighting warmly lights the Portuguese style architecture, making it truly remarkable to view by nightfall.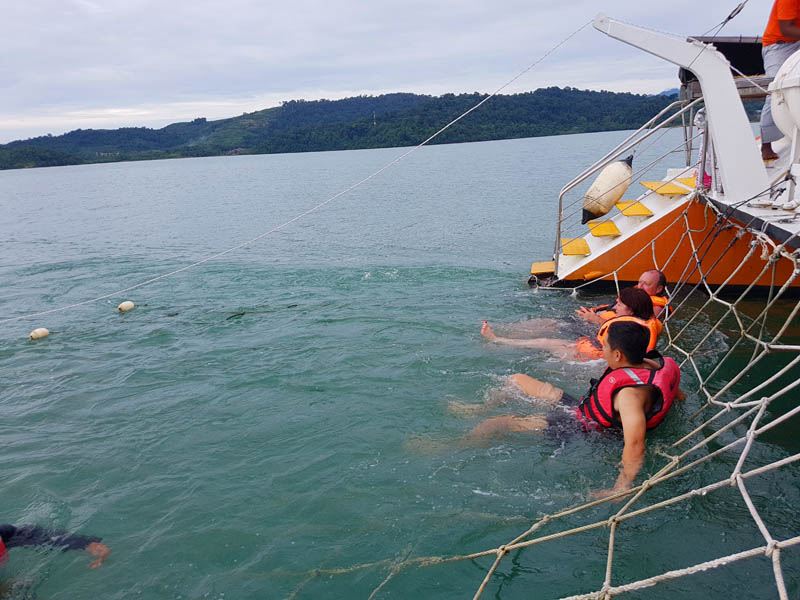 Book now, www.rwlangkawi.com.
Stay tuned for more adventures around Langkawi in Malaysia.
xxx
Happy Sustainable Travels!
Follow us on Instagram @TravelJunkieID, Twitter @TravelJunkieID & like us on Facebook.