Thetraveljunkie.org – Today Amphawa has been inherited all prosperities from its ancestors and as always do, its charming culture, tranquility and friendliness await to welcome all guests to experience that moment of happiness. Baan Amphawa Resort & Spa has perfected luxurious living where Thai hospitality meets comfort.
And how was my stay? Delightful, I would say. Vamos?
Pre-Arrival
Was there any pre-arrival communication by the hotel with myself via email or social media? My stay was organised very last-minute. It was organised by a multitude of channels.
Did I try engage the hotel via social media? Did the hotel interact with me and made me feel welcome/special? No, I didn't know the hotel social media accounts. Learned more www.baanamphawa.com.
Has the hotel tried to gather any personal information (e.g. preferences) prior to my stay? The hotel inquired regarding my personal preferences and food likes and dislikes, as well as any allergies, in addition to any special requests I may have. Thankfully, I'm not too fussy with food, so I let the relevant staff know that we had no special requests.
Arrival
The wow factor! What was the hotel decor style? The hotel is in a very secluded location, far, far away from crowded Bangkok, so beyond the birds chirping, a natural pond and swimming pool setting along the coconut shade connecting walkway, there is not much noise. In fact, the silence is probably the hotel's greatest 'wow factor'. The hotel designed to be a perfect harmony with nature while affording every comfort and convenience.
How quick and efficient was the hotel check-in? As soon as we arrived, I was greeted with the traditional cold towels and a very refreshing fruit-based welcome drink. Following that, I was led to my pool villa 512 and given a brief tour of my rooms, before being checked-in at the villa itself. Simple, efficient and very friendly.
Was I addressed by name once reservation has been located? Absolutely, and all the time throughout my stay.
Did I feel genuinely welcomed by the hotel staff? If a Thai resort isn't making guests feel welcome, then I don't think it call itself Thai anymore! Known for their welcomeing hospitality, the Thais love to ensure that a guest feels as if he/she is entering his/her own home! The staff made sure I felt genuinely welcomed.
WiFi – was I told anything about it? Was there a charge? Thailand truly leads Asia in this manner, and it is particular the hotels in the traditional 'resort towns' that are leading the way. Wifi was free of charge. I was encouraged to use it.
Room Experience
First impressions – decor, size and wow factor? The wow factor is definitely the size. Each pool villa has total of 80 square meters living area with an outdoor private plunge pool (2.5m x 5m) with Jacuzzi. The rooms offer comfortable stay with separated living area overlooking tropical garden. The decor is Rattanakosin style house.
Welcome amenity? There WASN'T a basket of fresh fruit with the local treats – including dragonfruit, as well as a welcome letter, interestingly presented in Buddha's hand! It was my dreams haha!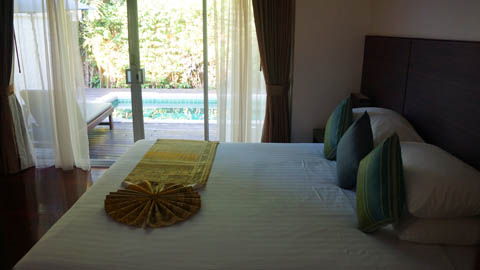 The Bed? Well, the bed was amazing, that it reminded me of home. The sheets were incredibly soft and the pillows were fantastic.
Closet/Wardrobe – proper hangers or those annoying ones where you need a PhD to get them out one by one? Everything was fine in this department. All as needed.
Bathrobes and slippers? As a resort & spa, I found it very thoughful of the resort to provide two sets of each: bathrobes to function as an actual bathrobe, and another to operate as casual wear, and similarly, a pair of slippers to wear around the villa. Impressive touch!
Coffee and Tea? Yes, there was a kettle and a selection of teas and coffee, which I did not use.
Free bottled water? Yes and changed daily.
Power sockets in useful places – we have more and more devices and we know where we want them! By the bed, by the working area. Plenty, and in all the places you'd want them, especially by the bed and near the desks.
The bathroom really modern and actually very nice. Bathroom comes with bathtub and separate shower room.
Bath, shower and taps – I am looking for Duravits and Hansgrohes (or other fab brands) around the world. How fab was the shower? Everything was great and to the highest standard. The shower was good for a water-massage.
Towels – yes, please! How many and how soft and lovely? They were fine – large and soft.
Toiletries – own brand, super brand, baby ones or proper ones? Toiletries were provided by own brand, which was a very nice surprise. I love the smell. Yum.
Amenity kit – The basics – from a sanitary kit, toothbrush, razor and shaving cream, sewing kits and shower caps were present.
Hairdryer – is it a human one, or just something stuck to a wall that only makes noise? There was a proper hairdryer which I didn't use.
General thoughts:
How good and reliable was the wifi? The wifi had very good connectivity throughout the villa.
Did the hotel interact with me via social media during my stay? Sadly no, but I was inactive on social media during my stay.
Location? The location is a boon for those looking for seclusion!
Would I recommend it to my best friends and readers? I already have – to friends, readers and family alike!
Would I stay again? A most definite, yes, any time!
Have you visited this hotel? What were your thoughts?

xxx
Happy Sustainable Travels!
Follow us on Instagram @TravelJunkieID, Twitter @TravelJunkieID & like us on Facebook.